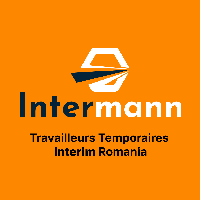 INTERMANN WORK SRL
You are a EU company and you are looking for temporary workers from Romania or Eastern Europe ?
INTERMANN
Contact - INTERMANN WORK SRL
Intrarea Nisipari Nr. 16 Intermann Office
014125 Bucuresti
Romania
Latest products added INTERMANN WORK SRL
Additional information
Legal information - INTERMANN WORK SRL
| | |
| --- | --- |
| Nature | Headquarters |
| Year established | 2021 |
| Legal form | SRL |
| Activity (NAC08) | Business and other management consultancy activities (7022) |
| Registry of commerce/Nr. reg. comertului | J40/11253/2021 |
| VAT no | RO44515629 |
| No employees | 20 Employees |
Presentation - INTERMANN WORK SRL
Intermann is an employment agency that sends Romanian workers to France, Italy, Spain and Germany. We are looking for responsible and serious people who are able to work abroad for an attractive salary and European working conditions. The professionalism we show is demonstrated by the employees who have chosen to work with us, and now benefit from a motivating income and a stable job. Based on our experience, we have shown that Romanian workers learn quickly and adapt very easily to changes, immediately progressing in the tasks assigned to them.

We have offices in Bucharest where you can come at any time to talk to our team of recruitment experts. Each employee speaks at least two foreign languages, including English, French or Spanish, in order to respond promptly and efficient to any challenge.

Intermann also work as a local temporary agency, so if you own a business and you need workers for various projects in Romania, or you are a foreign company that has a contract in Romania and you are looking for employees, Intermann can responds to these requests. We put you in touch with skilled and motivated people who can work in areas such as construction, logistics, agriculture, engineering, transportation, hospitality, restaurants, and more.

We carefully select potential employees after studying the submitted CVs, and we put you in touch with those who fully meet the requirements you need to complete the proposed project. We check the skills and competencies of each candidate very seriously to make sure we choose the right person for the right job.
The Interman team is looking for working people who want to earn a better salary and work across borders, but also longterm partners to provide job offers. Intermann benefits from a complex database with potential Romanian candidates. In a very short time, you will find the ideal candidate according to your needs.

We take care of the entire administrative and legal employment process, from the recruitment stage to bringing the employee to work. We are very careful that everything is legal from all points of view, and that all the requirements of the job market are respected.

In addition, we offer, as soon as possible, housing solutions in France for posted workers. All you have to do is choose the profile that suits you best based on your performance, and contact us to work with a professional team. Our main mission is to build a strong relationship between Romanian employees and foreign employers, so that each of them to be satisfied with the collaboration, and to see the positive results of their work.

As an employer, you will save valuable time, and your only responsibility will be the final choice of the CV that caught your attention, and the establishment of the work tasks of the Romanian employee ready to work for the offered job. No matter what problem or ambiguity you have, you can contact us to discuss. We are open to WhatsApp or LiveChat calls, and we want to be as close as possible to you.
1

product - INTERMANN WORK SRL
General Information - INTERMANN WORK SRL
Import area
Central/East Europe
Brands - INTERMANN WORK SRL
KineRoumanie
Vous êtes une clinique francaise et vous recherchez des Kinesitherapeutes fracophones temporaires?
Dl. Jeremy ROGGY
Sales Director/Manager (Director Vanzari)
Spoken languages Romanian, France, English
Dl. Adrian Tudor
Sector Director/Manager (Director Proiect)
Spoken languages Romanian, English, France, Spanish, Italian
Mr. Patrick ROGGY
Customer Service Director/Manager (Director Proiect)
Spoken languages Romanian, France, English
Mr. Benjamin BUENO
Web Development Director/Manager (Director Dezvoltare Web )
Spoken languages France, English
Mrs. Carmen ISTRATE
HR Director/Manager (Director Resurse Umane)
Spoken languages Romanian, English, France
Location - INTERMANN WORK SRL
Key figures - INTERMANN WORK SRL
Activities - INTERMANN WORK SRL
Producer
Distributor
Service providers
Main activities within the Kompass classification
Other classifications (for some countries)
NACE Rev.2 (EU 2008) : Business and other management consultancy activities (7022)
ISIC 4 (WORLD) : Management consultancy activities (7020)
Secondary activities within the Kompass classification