New service
Safety Meets Augmented Reality—The New Surge Protection App by Pepperl+Fuchs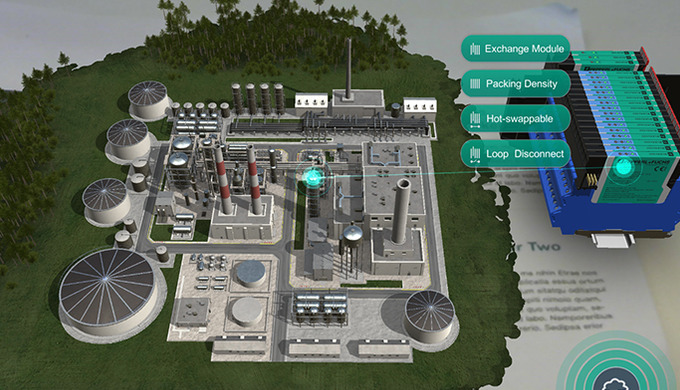 https://www.pepperl-fuchs.com/global/en/34607.htm?
Lightning is a natural spectacle, but for unprotected industrial plants it can have devastating consequences. To keep employees safe and avoid costly damage on expensive machines, the M-LB-5000 system provides reliable protection against surges, lightning strikes, and switching operations. To give users a firsthand look at the benefits of these modules, Pepperl+Fuchs has developed an augmented reality app that simulates the modules' operation in an industrial environment.
M-LB-5000 Surge Protection System: Because Safety is the Top Priority
A lightning strike can cause dangerously high potential differences up to 2 km away from the impact point. To maintain functionality even in an emergency, the 6.2 mm slim surge protection system continuously monitors itself. An integrated traffic light indicator tells users when modules need to be replaced. These status notifications can be integrated via
Power Rail
into the control level. With a modular design that consists of a base and a removable protection module, the
surge protection
system can also be easily replaced during operation. For insulation tests and loop checking during operation, you can remove the module and rotate it 180 degrees—the integrated separating function interrupts the signal circuit automatically.
Prepared for Any Emergency
With the new
Surge AR app for Tablets
, which can be downloaded from the
Google Play Store
or
the App Store
, users can simulate how the module reacts during a lightning strike. Three downloadable triggers simulate operation and provide interactive product information. After scanning a
trigger
, a 360 degree view of the module appears, along with an application menu, key benefits of the
M-LB-5000
, and a storm button that simulates lightning strikes to test the performance of the module in real time. Users can also replace modules to virtually interrupt a loop for commissioning and simulate signal transmission to the control level in different situations.
Highlights of the AR App for Surge Protection Modules
The AR app for Tablets simulates the performance of the new surge protection module in emergencies
Plant trigger: simulation of an industrial plant
Product trigger: simulation of a 3-D version of the new ML-B-5000
Control station trigger: simulation of a control station with error detection