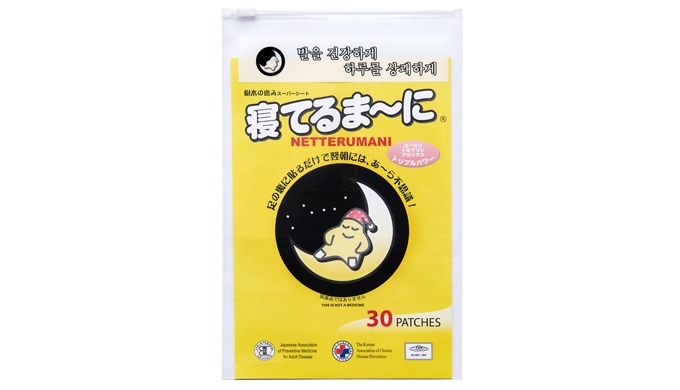 An original product of the sap sheet, the product means "During Sleep." It is a representative brand made with Brazilian Eucalyptus Tree, Aaricus Mushroom and Tourmaline Powder.
ㆍIt facilitates metabolism by discharging bodily waste while sleeping.
ㆍNetterumani is a global product used by countries around the world including South Korea,...
Description of the Product
An original product of the sap sheet, the product means "During Sleep." It is a representative brand made with Brazilian Eucalyptus Tree, Aaricus Mushroom and Tourmaline Powder.
ㆍIt facilitates metabolism by discharging bodily waste while sleeping.
ㆍNetterumani is a global product used by countries around the world including South Korea, Japan, Europe and the U.S.
ㆍDeveloped and sold in 1999, Netterumani is the original product of sap sheet and is a patented product.
During the past 20 years, over 1 billion sheets were sold, and the product has become essential among Japanese households, and it is also a representative sap sheet that has been at the center of attention in many countries including the U.S. and Europe.
ㆍSince it was introduced at North America's large-scale drug stores including Riteaid, Walgreen, Drug-Mart, Meijer, Marsh Market in 2006, it has been acknowledged for its outstanding quality for five years, and has now become a true global product that is used globally in America and Europe.
ㆍCurrently, the product is also sold in Shilla Duty Free Shop, Galleria Duty Free Shop, HDC Shilla Duty Free Shop, SM Duty Free Shop and Shinsegae Duty Free Shop.
ㆍThe major ingredients of the product are imported in Japan, and the company has sole manufacturing right to produce them to each corner of the world.

*Composition and size : 8.0 X 7.0 cm per package (including 2 bonus packages per 30 packages)
*Main components: Yukari pyroligneous liquor, Agaricus mushroom, Tourmaline, Adjusted starch
*Age for use: Available for men, women, and children
Category of the Product
I want to get more details about the product
Company catalogues - J&C Trading Co.. Ltd

Catalogues 1-2 (English)
1 pages

Catalogues 2-2 (English)
1 pages