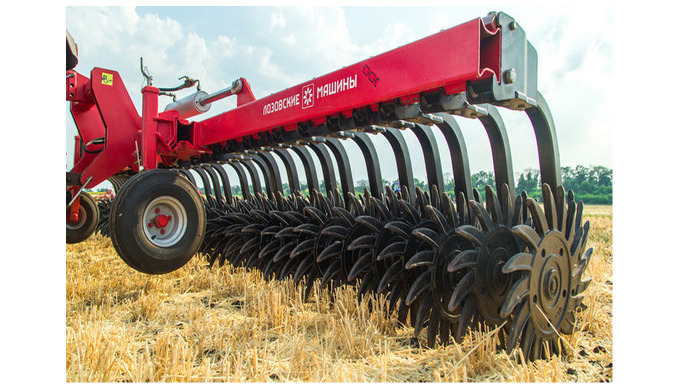 AERATE THE SOIL!

DINAR rotary harrows fully correspond to the requirements of modern agricultural enterprises. They have a long service life, suitable for both conventional and conservation tillage.

DINAR is the best machine for soil preparation.

Rotary harrows are designed for overall and inter-
Description of the Product
AERATE THE SOIL!

DINAR rotary harrows fully correspond to the requirements of modern agricultural enterprises. They have a long service life, suitable for both conventional and conservation tillage.

DINAR is the best machine for soil preparation.

Rotary harrows are designed for overall and inter-row cultivation of various cereal and tilled crops, as well as vegetables on all types of soil. These harrows are especially effective in destroying heavy soil crusts. Also DINAR successfully copes with loosening of stony and very hard soils.

The DINAR rotary harrow intensively mixes and crumbles the soil to a depth of 5 cm.

ADVANTAGES

DINAR has an increased durability due to special design of the frame, which is made of a special profile; rotary casted stars, and spring-mounted tines. Due to a high frame the harrow works with high seedlings without any damage to them.

— "Star" with increased durability

Star or the rotary harrow is a solid casted part with a special-shaped tooth point. Solid start is better that assembled one due to more rigid and stable design, which eliminates loose during work.

— Careful work through the seedlings

The machine is well adapted both for overall and inter-row harrowing, and able to work when the crops are already grown. With minimum inter-row distance the DINAR works from 2 leaves to 20 cm of the plant's height. At bigger inter-row distance you can work with height of up to 60 cm.

— Support wheels

The implement can be additionally equipped with support wheels to adjust depth of stars penetration into the soil

— Simple and fast mounting of tines

The tines are mounted by one bolt ("fast mounting"). Thus, the less time-taking mounting – the less costs for changing tines depending on different inter-rows.

— Two-stage adjustment of pressure

Precise tines pressure on a soil is provided by two springs and two-stage compression, which keeps required depth during work.

— Eliminated gaps

Balance mounting of stars provides constant contact with a soil, reducing loads on bearing unit and improving the harrowing quality.

— Simple transportation

Hydraulically folded frame ensures the harrow compactness in transport position and minimizes loads on the tractor linkage. Transport width is 3 m.

— Unique reinforced bearings

There are two reinforced ball bearings with X-SHIELD seals. Due to high accuracy of manufacture the level of noise and vibration is significantly reduced, increasing service life. Additional remote washer protects bearing from dust and stubble remains.

— Possible mounting of the spring harrow

An additional spring harrow can be mounted in order to remove weeds from the soil and to crumble clods with additional soil loosening.
Price of the Product
Price not indicated
I want to get more details about the product
Company catalogues - LOZOVA MACHINERY Ltd