Moderate prices and prompt delivery
- Product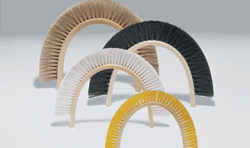 Mink Vee-belt brushes are resistant to dust, dirt, moisture, oil, grease and common chemicals. Moreover, they're ideal for use in small spaces. They can be supplied in both open-ended and endless versions. And because we know that you never like to wait, the most important types are available straight from our catalogue range. They're inexpensive a
Description of the Product
Mink Vee-belt brushes are resistant to dust, dirt, moisture, oil, grease and common chemicals. Moreover, they're ideal for use in small spaces. They can be supplied in both open-ended and endless versions. And because we know that you never like to wait, the most important types are available straight from our catalogue range. They're inexpensive and can be delivered promptly.


Price of the Product
Price not indicated
Technical Details

Advantages:
• Practical solutions for immediate use
• Extremely rugged
• Working temperatures: -15°C to +80°C
• Belt speeds up to: 20 m/sec.

Category of the Product